Hambach Forest – or what's left of it – urgently needs saving!
A guided tour every sunday with Michael Zobel (nature guide) and Eva Töller.
The energy company RWE intends to destroy the last remnants of Hambach Forest between October 2018 and February 2019 so that it can continue extracting coal from Hambach open-cast mine. What was once the biggest forest in the Rheinland is facing final destruction. The excavators and chainsaws are all lined up and the forest with its centuries-old European oaks and hornbeams is doomed to disappear. Is its demise inevitable? The forest is still standing, and an astonishing number of very active people are standing with it, campaigning in imaginative ways to save what is left.
The forest has been occupied for more than six years: forest protectors from all over Germany and the neighbouring countries are living in tree houses in the ancient beeches and oaks. Get to know Hambach Forest – the area potentially covered by the EU Habitats Directive, the trees, the animals and the people – and then make up your own mind.
Dates:
Currently (September & October 2018) every sunday!
<!–[ckhp-tribe-events cat="waldspaziergang" number="3″ error="y" showtitle="n"]–>
Meeting place: At the entrance to Morschenich Gravel Factory (50.869225, 6.562416)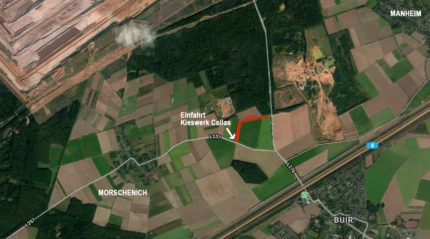 Carpooling from Aachen:
Treffpunkt 11:00 Uhr am KuKuK, Eupener Straße 420, Aachen (Köpfchen border crossing)
Duration:
approx. 3 – 4 hours
Reservations and more info:
from Michael Zobel,
Phone: 0171 85 08 321
E-mail: hambach@nullzobel-natur.de