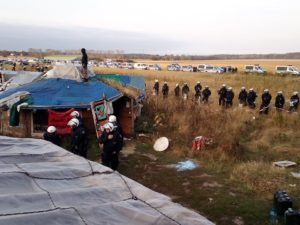 Today, on 28/08/2018, there are partial evictions in the meadow camp of the Hambach Forest occupation as consequence of a search. The purpose of this search is to provide evidence of past actions and to seize items to carry out further actions.
As part of this mission, which began at 7:20 clock, there were over 30 sending-offs and also some arrests.
As a result of the five-day long police operation, the Hambach Forest has now been declared a danger area, ie. no people are being let in right now.
We strongly condemn the escalating actions of the police. The violence emanating from the police is in no way de-escalating, and the destruction of livelihood with the legitimation of confiscation of dangerous objects is unacceptable.
The Press Group
For further information: press_hambachforest@nullriseup.net