For years, a handful of tropical timber traders are plundering unscrupulous the rainforests of Madagascar, the EIA environmental organization reports. Even in face of national parks that are declared World Heritage by UNESCO, the loggers do not stop.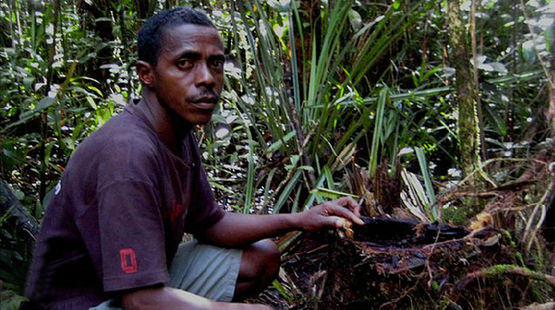 In 2010, Armand Marozafy was the center of a BBC report devoted to the illegal logging of rosewood in the forests of Madagascar
Most of the ebony and rosewood goes to China. One cubic meter (m³) has a value of 22,000 euros. The wood is especially used for the production of luxurious carved furniture.
Certainly the government of Madagascar has banned the cutting, trade and export of wood. Nevertheless, since 2010 at least 25.365 m³ went to China, corresponding to about 200,000 trees.
State officials and politicians are involved in this gainful activity, EIA writes. Even the President and Minister of the Environment are told to have received funds from wood traffickers for their election campaigns.
Armand Marozafy from Madagascar lives to show the natural beauty of his island to the tourists, the BBC reports. As a president of the environmental organization COSAP he fights for the preservation of the tropical forests.
In February 2015, Armand Marozafy sent a confidential report to two NGOs, in which he unveiled the collaboration of two local tourism operators with rosewood traffickers. An attacker published the document on social networks. Both operators lodged a complaint for defamation against Armand, who was arrested and imprisoned April 26, 2015.
On May 22, 2015 Armand was sentenced to six months imprisonment and a fine of 3,800 euros (converted).
Petition with more information.
More at rainforest-rescue.org
Press Release Free Forest of Madagascar August 31, 2015:
From Bad to Worse: Armand Marozafy's Request for Parole Rejected by the appeal court.
twitter