Translation of: https://www.sauvonslaforet.org/succes/6809/armand-marozafy-est-libre
What happened before Madagascar: freedom for the environmentalist Armand Marozafy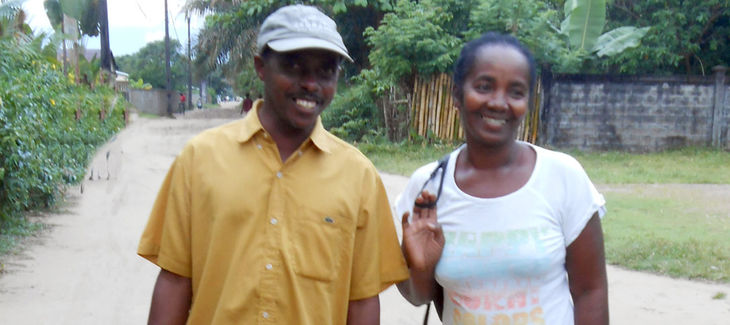 On the way to freedom. Armand and his wife Stine Marozafy immediately after leaving prison (© Ecolodge at Arol)
Sept. 24 2015 The Court of Appeal in Tamatave ordered on September 23, the release of Armand Marozafy. Armand left prison far too late. Too late, because he sat five months instead of 4 to which he was sentenced. Too late, mainly because he had no business being in prison! The mobilization for the tropical forests of Madagascar continues.

After five months in prison, Armand Marozafy finally has been released from prison on Wednesday, September 23th, 2015. The Court of Appeal of Tamatave eventually reduced its original sentence of four months in prison, while maintaining the fine of 12 million Ariary (about 3,400 €). It found Armand guilty of defamation of two forestry companies in a private e-mail, the contents of which was posted at Facebook by an unknown user…
Although we are happy with Armand about his regained freedom, we believe that the court ruling is anything but a victory: in the eyes of Justice of Madagascar Armand is still guilty. By the authorities, he and other environmentalists are therefore still seen as criminals.
Moreover, in Madagascar the fine which Armand was sentenced to, amounting to over € 3,400, is a real asset. Armand rejects this conviction and will file an appeal. Any financial help is welcome. We encourage everyone who can, to make a donation: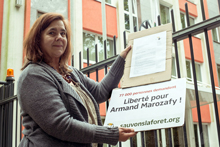 Handing over of the petition for
Armand Marofazy in Berlin
The organization "Save the Rainforest e.V." recently joined the association Free Forest Madagascar to call for the release of Armand Marozafy. It participated in the mobilization by the gathering in just a few days of almost 80 000 signatures of support for Armand and the handing over of the petition to the Embassy of Madagascar in Berlin, shortly before the verdict.
The petition is still important.
We want the innocence of Armand to be recognized. We call on the government of Madagascar to stop the illegal trade in local ebony and rosewood. We call on them also to protect all activists such as Armand Marozafy and Augustin Šarovy, working for the conservation of the tropical forests, which are threatened by the timber mafia.