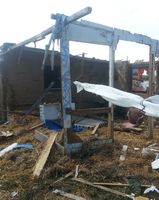 This was a house before the so-called securing of evidence. Click for an enlargement
DEMONSTRATION IN SUPPORT OF HAMBI 5.9 WED Buir Train-station.
Regardless of, and perhaps especially because of the now 3 weeks of massive police actions: barricade clearings, constant harassment, arrests (now of 26+ all but 2 now released) meadow raid and confiscations, and now the information that large police action might be planned for this Wednesday the response to all this Climate Killing Bullshit has just been freaking phenomenal.  Supporters have been constantly streaming in and despite the searches, bringing over a ton of eviction food and supplies (with tools, pallets and climbing supplies being stolen by the co2ps).  Hundreds have visited, stayed and supported regardless of constant harassment even of the official protest Mahnwache, access to which is "legally" guaranteed without id checks and controls (those pressing this issue have been able to get in without being checked, others have just given their names without presenting ids). Also please remember that the forest is large so it is really hard to cut off all access from outside…
There has been mobilization of countless local support groups, initiatives, and even, yes, NGOs taking on the cause of Hambacher Forest, still more people packing their backpacks and joining the struggle would be good as well.  There has also been explosion of articles and reportage from the forest, all with the exception of local coal press being fairly positive.  This however does not change the fact that the escalation to push the Planet past catastrophic 2 degree climate warming and the run away global warming points of no return continues with at least 6 police vans posted around Hambi trying to control people coming to the forest and evictions and cutting of last portion of the forest being in the works regardless of the official Kohle Kommission coal exit narrative.
So counter balancing possible thousands of Co2ps  on the could be in the forest on this very same day is a valid climate justice and grass roots strategy.  One that can especially lift up the morally and spirits of the forest activists facing police violence, destruction of their homes and of their beloved unique on European scale habitat…
#HambiBleibt #HambacherForst: Please use those hashtags on twitter with updates on the situation from the demo and in case Fossil Fool Herbert Reul's Co2ps attack Hambi excerpting the highest violence ever extended to all life on this planet, destabilizing the climate and future of the only life bearing world.
Hambi Bleibt!
train schedules for the demo from other cities: