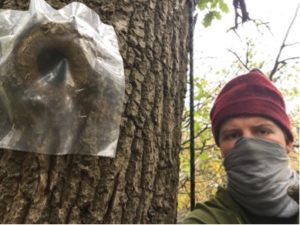 Oct 11th, 2018
Bat rescue action
The Hambach Forest is a biodiverse area containing many rare animal and plant species, including the dormouse and the Bechstein's bat. This unique biotope is being destroyed by the coal mining activities of the company RWE in North Rhine Westphalia. Environmental activists of BUND and NABU and many independent nature preservationists are fighting to protect the forest and its species.
On the 6 October, 50,000 people joined a protest in the Hambach Forest. One of the main reasons for the outrage was that RWE, in addition to forcibly relocating the bats, is intentional destroying their nesting places with stapled plastic pieces and tape. This means that the bats are disturbed during their nesting season, which typically takes place every autumn, and are driven out of the area or even locked up.
Activists in the forest created a courageous bat rescue team, which took every step possible to protect the Bechstein's bats from starvation and death.
See also our page Endangered animals with more info on the Bechstein's bat