Today we're sending messages of solidarity to the blockade at the SUNCOR refinery in Montreal, Quebec that took place yesterday, to the Banc Expropiat squat under threat of eviction in Barcelona, Spain, and to the resistance against the gold mine in Skouries, Greece.
Early on October 7, four women blockaded the SUNCOR refinery Montreal using tripod and lock-on techniques. This was to protest the reversal of Enbridge's Line 9B oil pipeline, which will be bringing Tar Sands oil from Alberta through Montreal for export.
montreal.mediacoop-link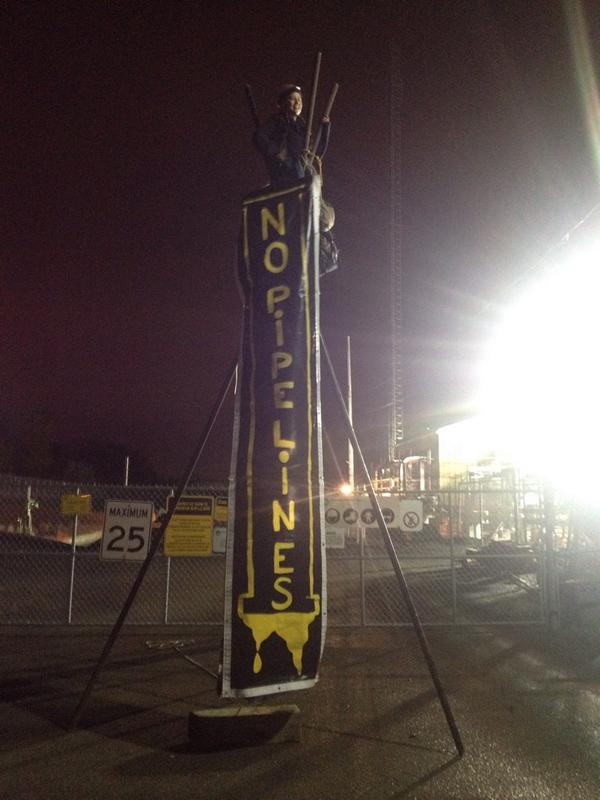 In Barcelona, the Banc Expropiat squat is under threat of eviction on October 13. They have been squatting an abandoned bank for two years, and have created an autonomous and anti-capitalist space. Solidarity actions in support of Banc Expropiat have been taking place since the eviction was announced. For more information, visit bancexpropiatgracia
In Greece, resistance against the development of the gold mining projects in the Chalkidiki region continues, defending their forests and their mountains. For more information, visit antigold
The Hambach Forest is one of the oldest mixed forest in the middle of Europe. It is being destroyed by the energy empire RWE which is mining for lignite coal. For the past three years, people have been occupying the trees, meadows, and houses to stop the expansion of the mine. Last week a skill-sharing camp took place at the Hambach Forest meadow and forest occupations, where people from all over the world gathered to give workshops, presentations, and to do actions. Check out http://hambachforest.blogsport.de/ to keep up with the occupation.