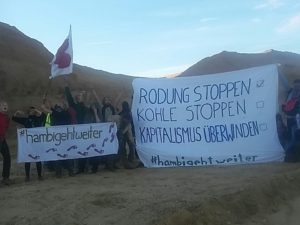 See the live ticker for the details of the action
Our motivation for the walk into the mine last Sunday
Long, intense, exhausting and sad weeks are behind us. The decision of the court in Münster cools down the conflict about the Hambach Forest for the time being. It is important for us to emphasize that this is not just a result of the court decision but, above all, one of resistance, years of struggle and activists who have made determined efforts to preserve the forest on many levels.
We want to show that the fight for the Hambi goes beyond the forest borders.
It is part of a much larger vision of climate justice and a responsible and self-determined future. That's why we went yesterday together into the open pit Hambach, where once stood the Hambach Forest. We blocked the big machines that are digging away the forest, many villages with thousands of stories and our future.
We need a quick end to lignite and an exit from all fossil fuels. RWE still receives subsidies and destroys habitats. Let us demand that RWE itself should pay the immense police campaign of the last weeks!
Although lignite mining is declining, Germany is massively importing hard coal from Colombia, South Africa and Russia. Under the mining conditions there people suffer and pay, many of them with their lives. The reason for this is the suppression of global responsibility and the capitalist economic system. It still allows industrialized nations to exploit other societies. People are suffering globally from the consequences of the backward-looking climate policy of many countries.
The slander by police and RWE in recent years shows how much they in the Rhineland stand in the way of a peaceful, livable future. On the other hand, we must resist and seek alternatives to such superficial and exploitative companies. We fight for our livelihoods.
As long as the excavators continue digging, the Hambis of this world are not yet saved. We can win because we already were successful. That's why we continue!
Hambi's going on!
Hambi geht weiter!